---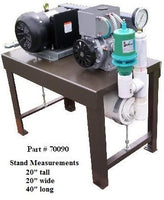 The 3 HP vacuum pump system comes with a CONDE # 6 vacuum pump with a 3 HP 1800 RPM farm duty motor on a stand.
Also comes complete with a mark II Sentinal regulator and gauge Ready to plumb a 2" vacuum line into a milking parlor.
Also will require 220V circuit for power.
The unit will run up to six milking units. The stand that the Vacuum Pump and Motor are mounted to may be different than the picture
New pump, motor, belts & pulleys, with "refurbished" vacuum tank and muffler
 Free delivery in lower 48 states. 1 year warranty.
Order Bucket Assemblies separate in the Bucket Assemblies section of the web page