---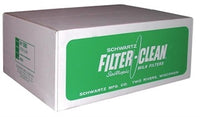 Schwartz Milk Filters designed strictly for gravity application with emphasis on speed and capacity. Random fiber distribution provides uniform microscopic sediment traps. Isotropic construction eliminates thin parts and weak spots. Filter Clean is thicker than other competitive filter media.
Schwartz 6-1/2" Standard Filter Clean non-gauze disks; 100 per box.
Case of 36 boxes. Wt. 28 lbs.