---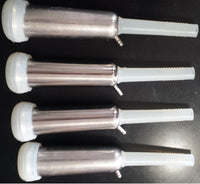 Replacement Silicone Inflations and Shells. Ideal to be able to see milk flow from the teat through the milking unit.  Silicone inflations usually are longer lasting that rubber inflations and this combination works great for bucket milking systems. In most cases life of these inflations is 1 year.
This is a Great Update to see the milk flow from each quarter.  The inflations are matched to Jet Flo stainless steel and WILL NOT work with any other shells (including Delaval and standard Surge shells) To have a complete match you will need to order the complete combination.  
This combination is an upgrade to milking machine that we sell and will need to be added if ordering a complete milking machine. 
Includes
4 X 63015 Silicone Inflations              
4 X 10017 Stainless Shells 
Sold in Set of 4 
This is a non-returnable item